Saturday
2:00 PM
- 4:30 PM

- Start Time moved to 2PM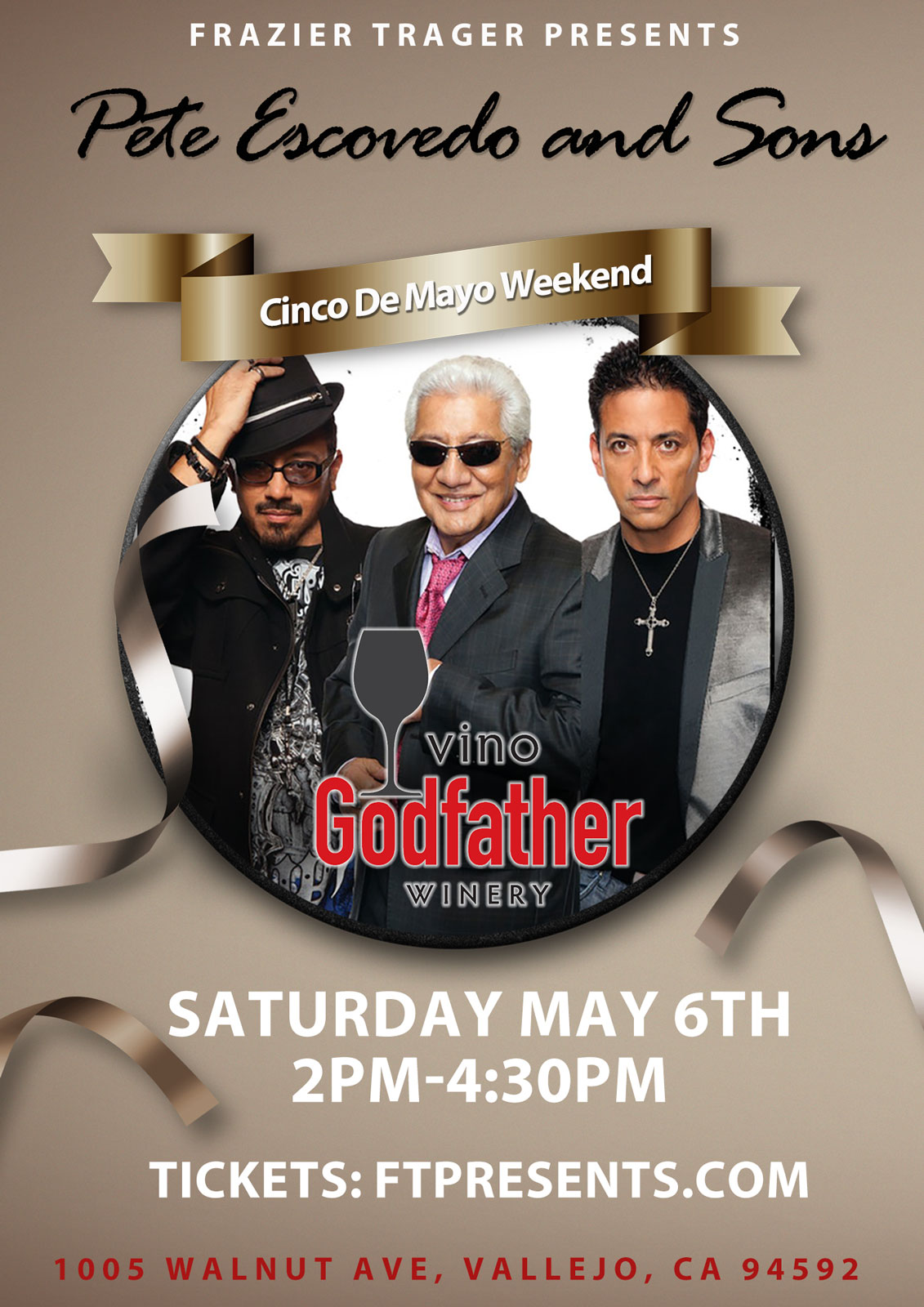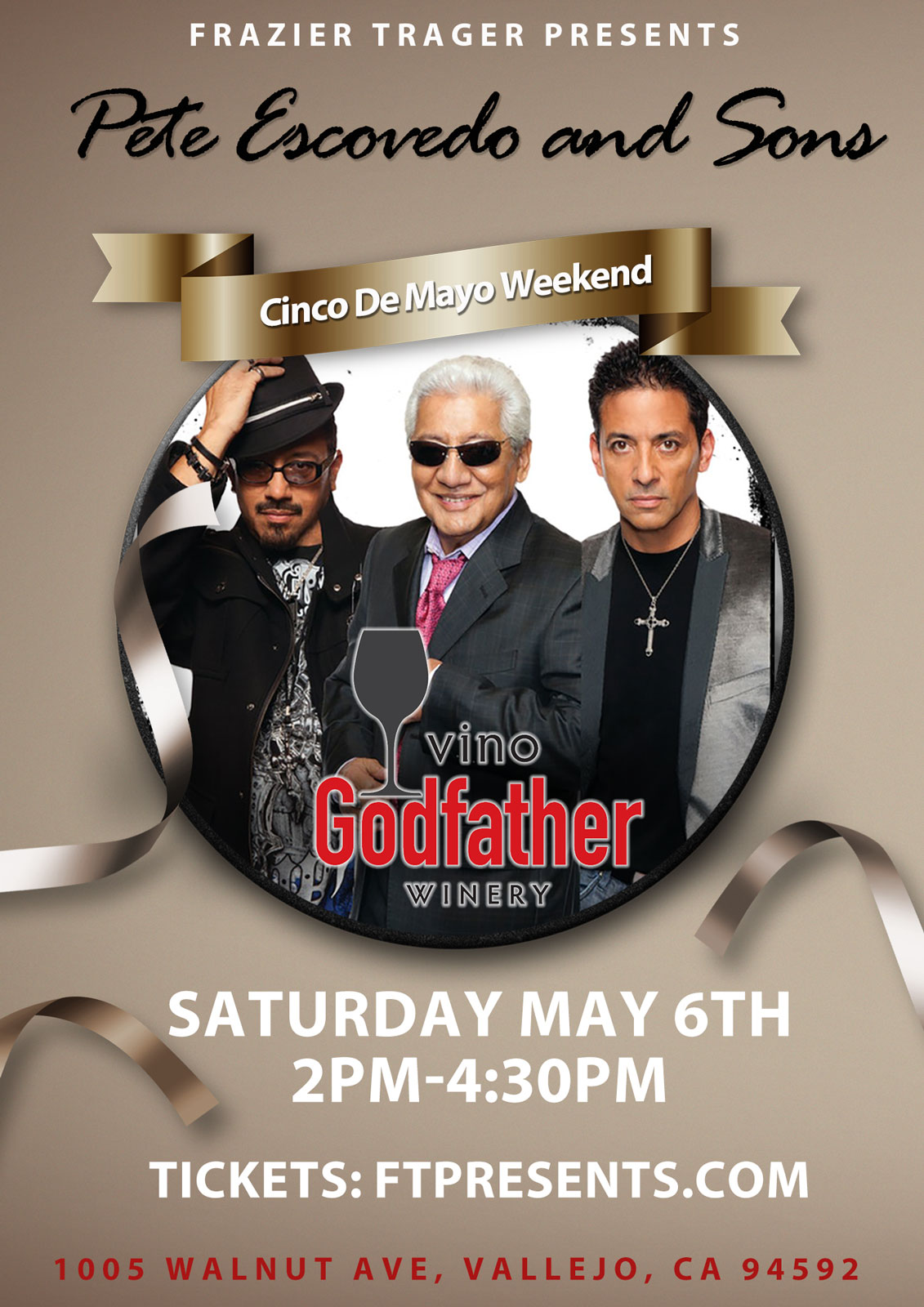 Pete Escovedo Retirement Tour
FEATURING JUAN AND PETER MICHAEL ESCOVEDO
2:00 PM - 4:30 PM

- Start Time moved to 2PM
Vino Godfather
|
1005 Walnut Ave, Vallejo, CA 94592
Event Organized By:

Frazier Trager Presents
Event Details
Notice: Pete Escovedo has recently announced that this will be his retirement tour! 
Vino Godfather Presents: Legendary percussionist Pete Escovedo and Sons, will perform Saturday, May 6th, 2023. This incredible ensemble features Juan and Peter Michael Escovedo along with a mix of musicians from both Los Angeles and the Bay Area. After several decades, Pete Escovedo has become an internationally recognized percussionist, nominated for two Grammy Awards and hailed as a percussion master. He is recognized by some of the greatest artists of our time and has had the opportunity to collaborate and share the stage with musical stars like Prince, Herbie Hancock, The Temptations and Stevie Wonder.
Juan Escovedo has toured, performed, and recorded with many artists, including Prince, Tony Toni Tone, Patti LaBelle, Amerie, Chingy, Jody Watley, Lou Bega, MC Hammer, Lionel Richie, En Vogue, El DeBarge, Freddie Hubbard, Barry White, Herbie Hancock, Teri Lynn Carrington, Bobby McFerrin, Tito Puente, Cheryl Lynn, Raphael Saadiq, Bobby Womack, his sister Sheila E., and his father, Pete Escovedo. Juan writes and records as a solo artist, and also tours with his father's Latin Jazz Orchestra, and with The E Family Band.
Peter Michael Escovedo III, Two time Emmy nominated Producer and Musical Director has earned recognition not only as a percussionist, but a producer, director, singer, songwriter, and television personality. Peter Michael (named after his father, percussionist and original member of Santana…Pete Escovedo) has contributed to countless world tours, recordings and television production. He's created, directed, and produced television shows, written music for film, theme songs for television, composed, arranged, and produced music for various artists.

TICKETS ARE $45 IF PURCHASED ONLINE
TICKETS ARE $50 IF PURCHASED AT THE DOOR
A $4 ticket fee applies to event tickets bought online, at the door, or over the phone. This helps cover, event staff, ticketing, and credit card fees.
Table Reservation (NOT A SHOW TICKET). Reserving a table is an additional charge and comes with a bottle of wine. A table reservation guarantees a table for you and your guests (up to 8 people) and a bottle of wine for your table, but you and your guests must have a GA Event Ticket to enter the event. A Table Reservation Ticket is $95 plus a $5 processing fee.
Date & Time
Saturday, May 6, 2023
2:00 PM - 4:30 PM
- Start Time moved to 2PM