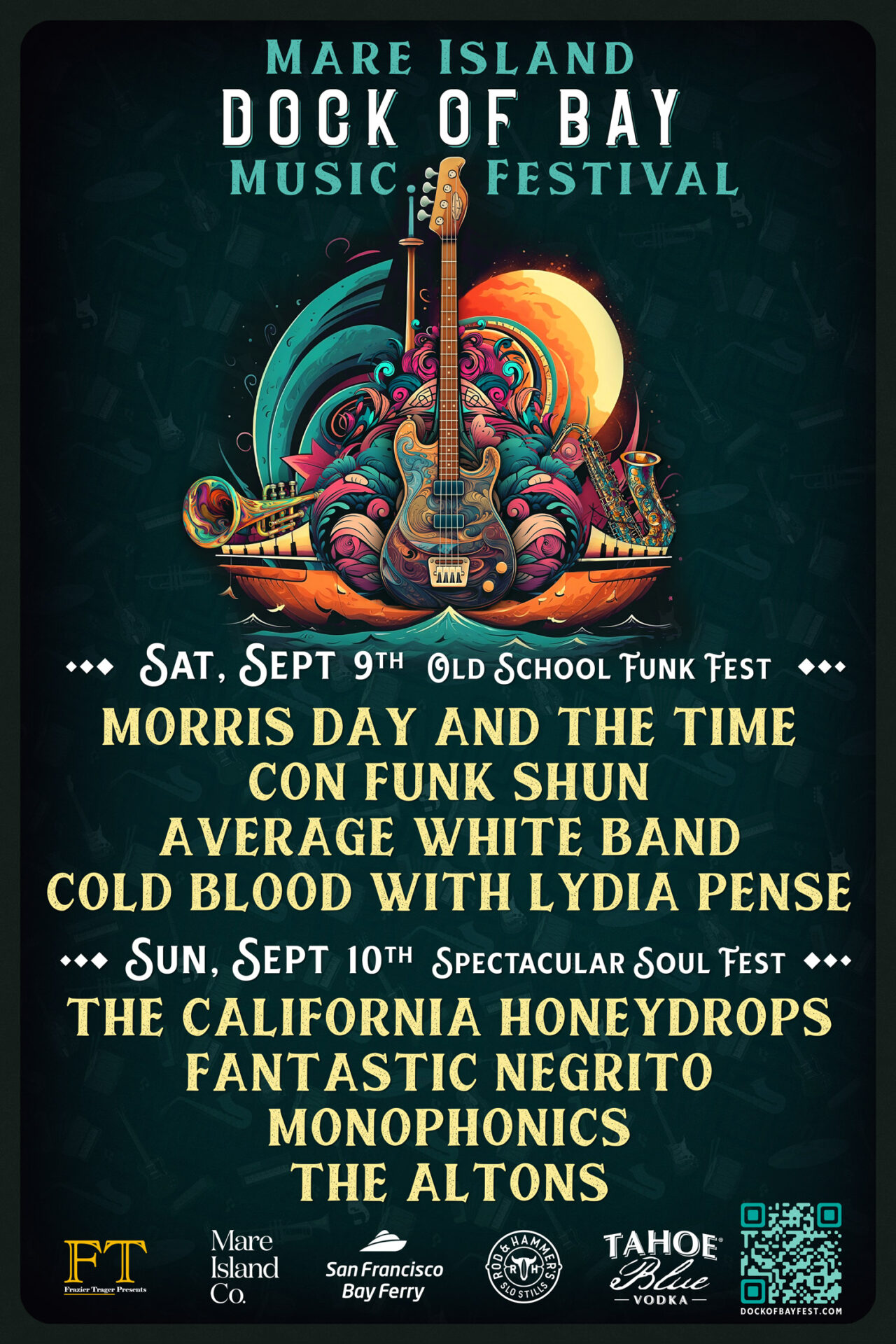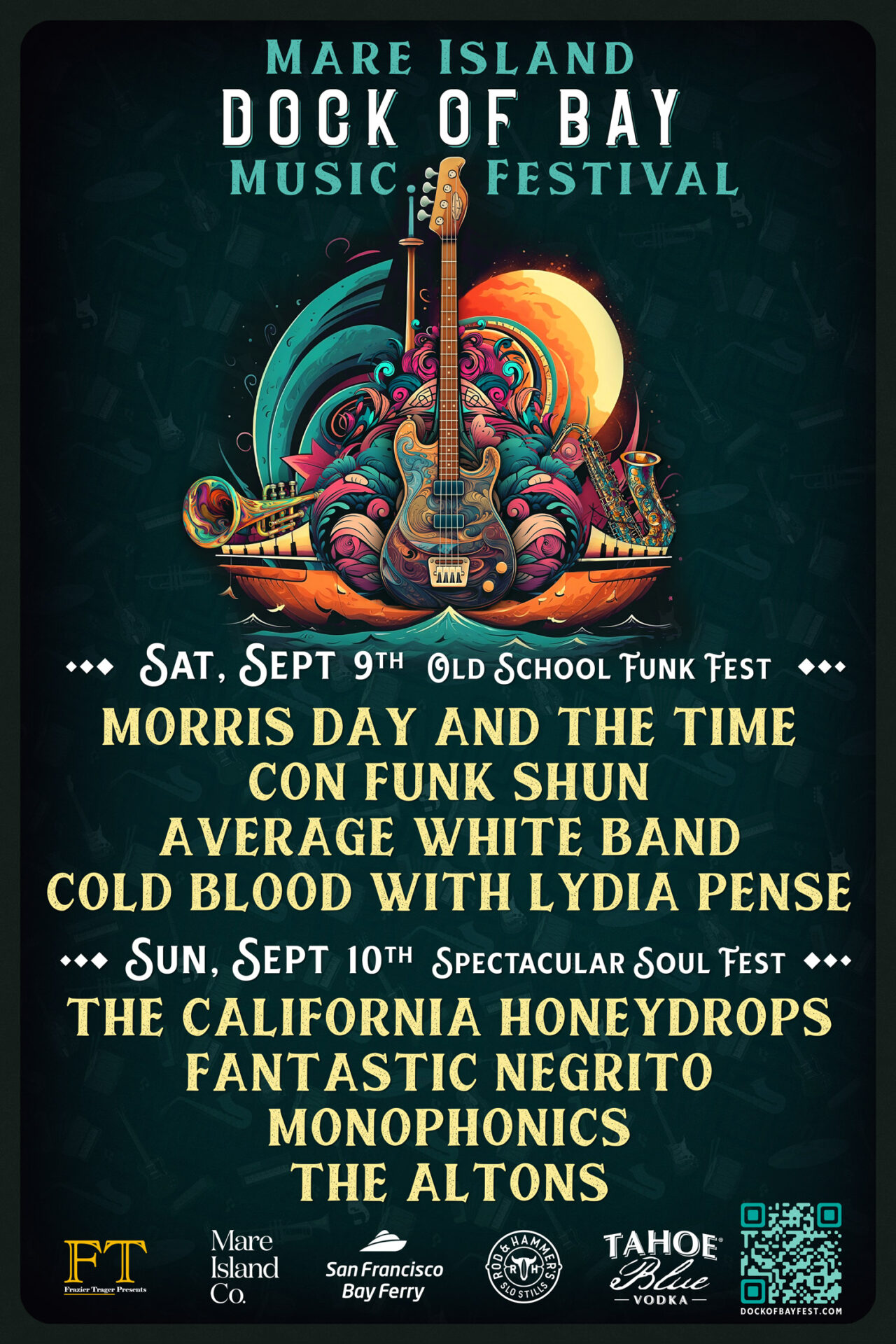 2023 Mare Island Dock of Bay Festival
DAY 1: OLD SCHOOL FUNK FEST - DAY 2: SPECTACULAR SOUL FEST
12:30 PM

Doors - Sat 12:30pm to 9:30pm - Sun 12:30pm to 9:30pm
Festival Location: On Mare Island
|
850 Nimitz Ave, Vallejo, CA 94592
Event Organized By:

Frazier Trager Presents
Event Details
MARE ISLAND COMPANY &
FRAZIER TRAGER PRESENT


Mare Island Dock of Bay Music Festival


OLD SCHOOL FUNK FEST - SEPT 9TH
Morris Day and the Time, Con Funk Shun, Average White Band, Cold Blood
Chef de Cuisine Stage: Jaz Synergy, LJ Bryant, Seastrunk Brothers, Jinx Jones
Saturday GA: $95
GA are still available
Scroll down the page to get tickets!
SPECTACULAR SOUL FEST - SEPT 10TH
The California Honeydrops, Fantastic Negrito, Monophonics, The Altons
Chef de Cuisine Stage: Destani, Bustamante & Santos, MeloDious, Andy Santana
Sunday GA: $95
Sunday VIP: $150
Sunday Premium VIP: $250
VIP Ticket Includes: (limited quantities available). As a VIP ticket holder, you'll enjoy exclusive access to a range of exciting perks and amenities:
 * VIP Parking: Exclusive parking in the main parking lot closest to the entrance
 * VIP entrance: VIP attendees will have a separate entrance that allows them to bypass long lines and enter the festival quickly and easily
 * VIP-only viewing area along the waterfront, and access to VIP only seating to view all of the festival's top acts
 * VIP lounges: Two dedicated VIP lounges with specialty cocktail bars, professional servers, fine wines, micro brews, and premium spirits.
 * Private restrooms: Access to private portable restrooms for VIP's only
(VIP only seating is shared with all VIP's and is on a first come first serve basis)
Premium VIP Ticket Includes: (everything above plus a few perks)
 * Wine Tasting by Vino Godfather - Select Premium wines with chef created food pairings to compliment every sip
 * Whiskey Tasting by Rod & Hammer's SLO Stills - The "Official Whiskey" of the Mare Island Dock of Bay Festival
 * Close to the stage seating available along the waterfront
 * 25% off Festival Merchandise sold at the festival
TWO DAY PASS DISCOUNT WILL AUTO APPLY (must purchase in a single order for discount to apply)
When you buy a Saturday & Sunday ticket together, even if they are different prices, you will get $10 per ticket discount.
Festival Downloads


Date & Time
Saturday, September 9, 2023 - Sunday, September 10, 2023
12:30 PM
Doors - Sat 12:30pm to 9:30pm - Sun 12:30pm to 9:30pm
Venue
Festival Location: On Mare Island
850 Nimitz Ave, Vallejo, CA 94592
Same location as the Mare Island Brewing Co
https://dockofbayfest.com/